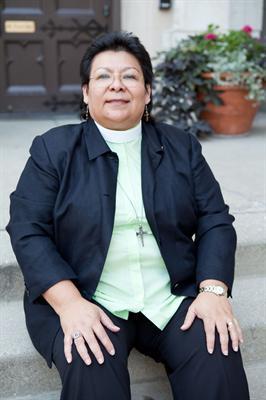 The Reverend Canon Zoila Manzanares-Cole
Cathedral Canon
ZoilaM@cccindy.org
I was born in Santa Tecla, El Salvador, Central America and joined the Anglican Church in the early 1970s. After graduating from a School of Engineering in El Salvador, I traveled to the United States to continue my ministry with the Episcopal Church in the early 1980s. After graduating with a Masters of Divinity from The Episcopal Theological Seminary of the Southwest in 1994, I returned to Los Angeles to continue my ministry. I served in the Diocese of Los Angeles, California from 1986 to 2006. During this time I was involved in the ministry at St. Philip's Episcopal Church responsible for the Hispanic congregants, Holy Faith Englewood, CA as Assistant Priest, Pueblo Nuevo de Jesucristo Los Angeles as Vicar and Associate Rector Trinity Episcopal Church Los Angeles.
Contact me about: the Hispanic Ministry.
What I love about CCC: Not only does the Cathedral serve as the church in the City and the Cathedral of the Diocese, but it serves as a door to the community of Indianapolis. The Cathedral's physical presence on the Circle serves as an ever-present reminder of our Lord's ministry to the city and an open table for communion among believers. In addition to this, the Cathedral serves as a place open to diversity in faith and practice and bars no one from its doors.